The Curriculum at St Louis
To

love

,

wonder

and

achieve

together
At St Louis we help our pupils grow through..


Offering a broad and stimulating curriculum that is meaningful and relevant to the children and gives opportunities for them to engage in their learning


Demonstrating how to live and treat others through Gospel values


Praising effort as well as achievement


Always seeking to improve through setting and expecting high standards for everyone in our community


Taking action and showing responsibility for others less fortunate than ourselves and for the world in which we live.


The statutory orders of the National Curriculum and Religious Education provide the basis of St Louis' curriculum which we have expanded upon to provide our students with a broad and balanced experience across all subjects. Please click here to visit the National Curriculum for all subjects to view details of our curriculum content.

Themed weeks, whole school activities and opportunities within and outside school all enrich and develop the children's learning. After school clubs and events extend these opportunities further. Additional whole school programmes and approaches, such as Read Write Inc. and Maths No Problem, support quality teaching and learning and the school is well resourced in terms of learning materials, books and technology.

Our outdoor environments and the local community are considered an opportunity for active learning for all our pupils. The school grounds continue to be developed so they can enrich different curriculum areas
Curriculum Subjects
We aim to provide a rich and varied curriculum that will stimulate and enable each child to reach their full potential.
RE
We follow Come and See scheme of work. Click here for a link to the website.
English
Reading
Learning to read is one of the most important things your child will learn at our school. Everything else depends on it, so we put as much energy as we possibly can into making sure that every single child learns to read as quickly as possible.

We want your child to love reading – and to want to read for themselves. This is why we work hard to make sure children develop a love of books as well as simply learning to read.

We start by teaching phonics in Reception using the highly successful 'Read Write Inc' phonics programme. Children learn how to 'read' the sounds in words and how those sounds can be written down. This is essential for reading, but it also helps children learn to spell well.
The children also practise reading (and spelling) 'tricky words', such as 'once,' 'have,' 'said' and 'where'.
Once children can blend sounds together to read words, they practise reading books that match the phonics and the 'tricky words' they know. They start to believe they can read and this does wonders for their confidence.
All children in KS1 take part in the RWI programme to continue to develop and consolidate their skills as readers. We check children's reading skills regularly so we that we can ensure the teaching of reading is appropriate.
In Key Stage 2 (years 3, 4, 5 and 6,) the children undertake regular RIC reading sessions with the staff in their class, have a wide selection of reading materials to choose from and projects linked to reading, with rewards systems for encouragement.
In both KS1 and KS2 the children are regularly read to by the teachers, too, so the children get to know and love all sorts of stories, poetry and information books. This helps to extend children's vocabulary and comprehension, as well as supporting their writing
All children across the school have access to class reading areas, library time and a range of quality texts providing interest and challenge. Experiencing such text improves children's attitude to reading helping them to develop into creative writers.
As part of our reading offer we encourage all children to read regularly at home and ask parents to support us in this. Please follow the link to our homework page to find out more about our school/home reading scheme along with helpful links to support reading at home.
Please click on the link to view our Reading Offer in full.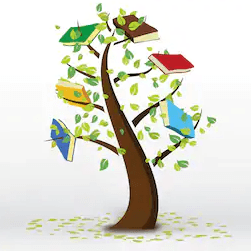 Writing
We believe that teaching children to understand the power of writing is an important part of our job as teachers. We believe that if we equip the children with the correct writing tools, they will be able to use them effectively within a literate world.
We provide a stimulating writing environment in which we offer encouragement and good quality modelling of writing. We have clear expectations of writing and communicate these targets to the children. We have high expectations of the finished writing product and encourage the children to maintain the same standards at all times.
At St Louis we use the The Literacy Curriculum: Literacy Tree Scheme to ensure a thematic, book-based approach to primary English.


In order to for our pupils to become effective and successful writers, we aim to teach them to
Understand the power of writing and equip them to use it well.
Enjoy writing and to be competent, confident and not to hesitate in putting their ideas on paper.
Recognise the need to adapt their writing to suit a range of audiences and purposes.
Use the most appropriate form of writing for a given task.
Use spelling and grammar accurately and with confidence.
A fluent and legible handwriting style in which to write.
To support children in planning and drafting their own work.
To revise and edit work in progress.
To provide resources to support children and to develop their independence in the use of resources.
As part of our homework policy we ask children to practice weekly spellings to develop and consolidate their writing skills. Please follow the link to our homework page for details of termly spellings for each year group along with information about how you can support your child.
Maths
A​​s we continue on our journey to mastery teaching and learning of mathematics, we have invested in 'Maths No Problem', a maths curriculum based on the 'Singapore' approach to Years 1-6. Maths No Problem is a highly structured approach to teaching maths concepts, designed to develop and deepen pupils' mathematical skills and confidence and to ensure all children can move forward together at broadly the same pace. The Singapore method of teaching mathematics, and therefore the scheme, is based on research and theories from a variety of educational psychologists including Jerome Bruner and Richard Skemp.​ ​​ Click here for more information about our teaching of mathematics.